The SPECapc for 3ds Max™ 2015 is a benchmark developed by The Standard Performance Evaluation Corporation (SPEC). It is the updated version of the synonymous 2011 benchmark, a much needed update as the graphic engine in 3DS saw notable updates between v2013 and the latest v2015 .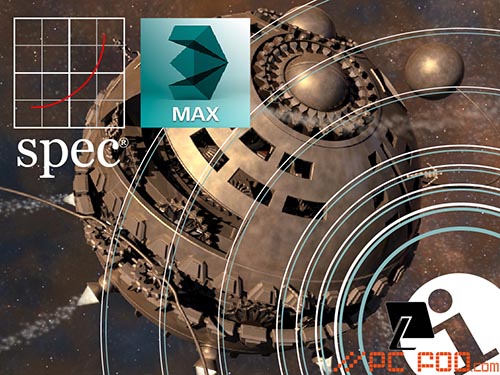 SPECapc for 3ds Max 2015 contains 48 tests for comprehensive measurement of modeling, interactive graphics, visual effects, CPU and GPU performance.
Features in the latest SPECapc benchmark are keyed to upgrades in 3ds Max 2015, including new DirectX 11 shaders and vector maps, Nitrous viewport enhancements, and new dynamics and visual effects. The benchmark also improves run-to-run consistency and results reporting.
Benchmark results are derived by taking the total number of seconds to run each test and nomalizing it based on a reference machine, in this case a Dell Precision 690 workstation with 2.0-GHz Intel Xeon 5130 processor, 4 x 4GB FB-DIMM DDR2 SDRAM (ECC) memory, NVIDIA Quadro Q600 graphics card, and Western Digital 500GB 7200 rpm hard drive. The normalization process ensures a scoring system where a bigger score is better. Composite scores are reported for CPU, GPU and large-model (city scene) performance.
Since the CPU used for all of these tests is the same, the scores reported will the the composite GPU score, and separately the "large model" scene score for each GPU. Throughout our tests, CPU performance was verified to be consistent regardless of GPU used, i.e. your rendering performance (also determined by SPECapc for 3ds Max 2015) is not really affected by the GPU used. For the record, the CPU score our i7-4770K @ 4.5GHz  test bed rig achieves 5.43 CPU points and this is consistent within the second decimal for all discreet GPUs. CPU score drops slightly when the HD 4600 IGP is enabled..
The benchmark can be run at 4K and 1080p resolutions, and at different anti-aliasing levels: 0xAA (default), 2x, 4x, and 8x AA.  To keep the performance scores relative, all tests posted in this page are run @ 1080p, as 4K resolutions would be simply unbearable for any but the post powerful of GPUs. 3K & 4K resolutions are already picking up in the CG world, but 1080p resolutions are still native for the vast majority of monitors used.
In the first chart, the results from all the tests are weighted and normalized against the base system, as described above, that would score 1.0 points.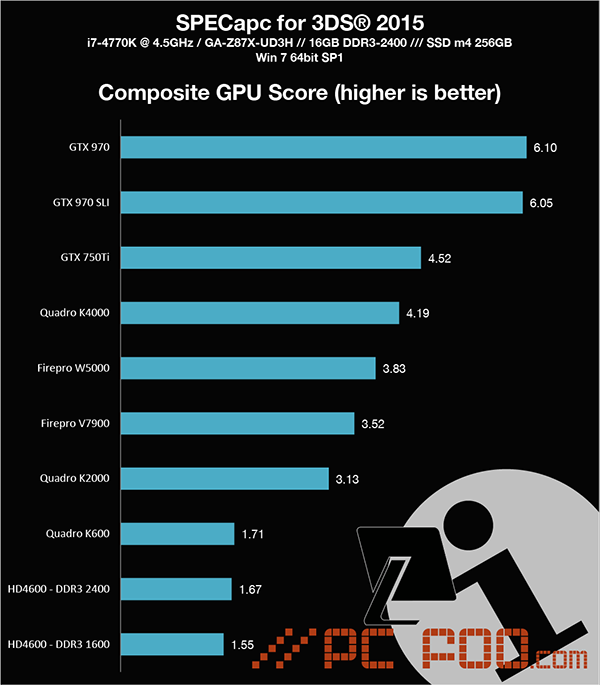 And below, are isolated the GPU scores specifically for the high polygon model scenes included in the benchmark.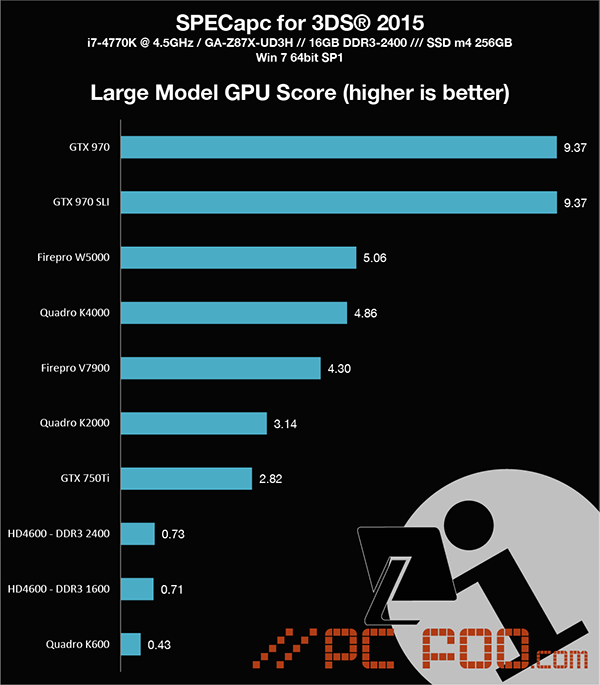 Finally, the bar chart below contains the results for the GPU rendering portion of the test. Note that the benchmark is unable to utilize both cards in case of a SLI pairing.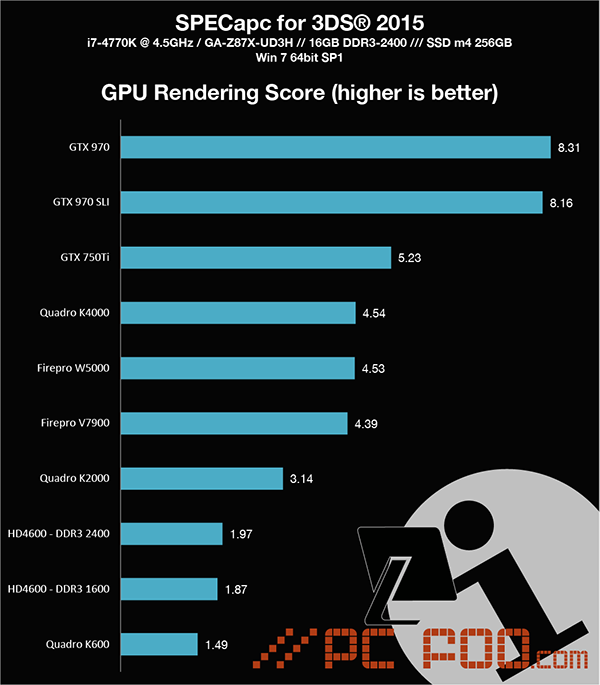 ---
Disclaimer: Unless otherwise stated, all the cards in these tables were tested on PCFoo's testbed with the listed specifications. Due to limited resources, the range of cards available is small. Should you wish to provide a card for a limited time in order to get it tested and included, feel free to contact us at: info@pcfoo.com. You can make it into our Sponsor list 😉