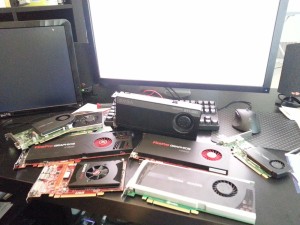 Since my main s2011 rig went under water with a full WC loop, it became increasingly difficult for me to add and remove GPUs for testing. I had a stockpile of GPUs waiting, and no will to mess with that loop over and over.
The solution? A dedicated "FooBench" for me to have access to those PCIe slots!
For the new rig I've decided to go with something more modern: since Haswell hex and octa cores are at least a few months down the pipe – probably a year for supply to settle a bit DDR4 prices etc, a 4770K based platform will give representative performance for quite some time.
To make sure of the above, as I did with the 3930K before it, the tests would be run using a decent overclock, to make sure that CPU bottlenecks – if any – would be kept to a minimum, for GPUs to spread their wings as far as they can.
The single thread performance of a Haswell i7 overclocked to 4.5GHz should be relative to the performance accessible for most end-users for at least a couple of years from now. More specifically, the new test system components are:
As you can see there is nothing really "special" about it, keeping the cost to a minimum without compromising performance and recycling existing components like the CPU cooler and the SSD were the major drivers.
The SPECviewperf® 11 – GPU Scores page was updated with scores using the above configuration and three Firepro cards were added to the mix, along with the new SPECviewperf® 12 – GPU Scores  page. More to come!