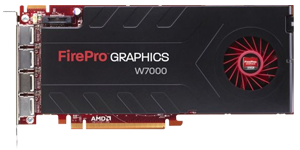 AMD launched a very tempting promotional campaign for its W5000 and W7000 Firepro cards.
The creatively titled "The AMD Experience AMD FirePro™ Special Pricing End User Cashback Promotion" is offering mail in cash back for 50% of the buying price (up to $300 for the W5000 and $450 for the W7000). Great news for those that want to celebrate Adobe's switch to OpenCL acceleration that appears to "rock" with AMD's GCN architecture.
All you need to do is apply online to the link below, and wait for the approval of your unique reference code.
Link to AMD's Firepro Graphics site – USA
Link to AMD's Firepro Graphics site – UK/Europe
June 2013 Pricing:
AMD FirePro W7000 4GB – Amazon.com – $ 704.99 / effective $ 325.50 after rebate
AMD FirePro W5000 2GB – Amazon.com – $ 430.99 / effective $ 215.50 after rebate
Please follow the steps as cited in the website corresponding for your region.
For the US/Canada – To qualify for the Promotion, a purchaser must:
Apply to purchase one of the Designated Products by visiting http://www.fireprographics.com/experience/us/apply.htm * and entering the requested details. This application will be reviewed by AMD and following approval a unique reference code (Pre-approval Code) will be issued to you via email within 2 working days. Pre-approval is a condition of eligibility for this Promotion and the Pre-approval Code must be provided when submitting the cashback claim (point 4 below).

Once you have received your Pre-approval Code purchase one of the Designated Products (see table below for Designated Products), either stand alone or as part of a workstation system from an AMD approved Reseller within the following countries; The United States and Canada, within 30 days of receiving your Pre-approval Code and during the Promotion Period. Eligibility for the promotion must have been confirmed before the purchase of the Designated Product (see below table). The purchase date (invoice date) of the Designated Product must not precede the date of Pre-approval Code.

Limit: Either 1 x AMD FirePro W5000 OR 1x AMD FirePro W7000 graphics card cashback claim per company, physical address, or company e-mail address during the Promotion Period, regardless of the number of Designated Products purchased or Resellers patronized.

Visit http://www.fireprographics.com/experience/us/claim.htm * and complete the cashback claim form to submit the cashback claim (a copy of the electronic receipt, or other document from the Reseller must be submitted with the cash back claim). Cashback claims must be submitted no later than 15th October 2013.
* These URL's correspond to the US Promotional Website. Please use the appropriate URL for your region that can be found in the appropriate site.